In 2006, Gráinne Kealy from Co Laois was resting her legs on the dashboard when the jeep she was a front seat passenger in crashed, causing the airbag to deploy.
The then 22-year-old suffered significant brain and facial injuries in the collision.
Gráinne has spent recent years working to highlight the dangers of putting feet on a dashboard – and she says she will keep telling her story to make sure the message reaches more people.
Earlier this month, she took the top prize at the Road Safety Authority's annual 'Leading Lights in Road Safety' Awards for 2019 for her awareness campaigns with gardaí in Thurles.
In the wake of that award, she spoke to Newstalk Breakfast with Susan Keogh about her accident and how it has impacted her life.
'You Think A Car Crash Will Never Happen To You… But I Can Tell You Nobody Is Exempt'00:00:00 / 00:14:17
Gráinne explained: "My ex and myself were going from Galway to my homeplace in Laois… we were bringing home some of my Christmas presents. It was after work, during the night.
"Somewhere along the way – I don't know where or why, because I have no memory… I have like three months of memory loss – I decided I would be more comfortable putting my feet on the dashboard.
"When his jeep skidded on black ice going through Borris-on-Ossory… it crashed into a wall.
"My feet were on top of the airbag. The airbag is there to save you: it helped my ex, but me not so much. It pushed my knees into my face at… 200mph I think an airbag opens up at."
Gráinne said she thought she was safe as she was wearing a seatbelt and her ex was not driving dangerously.
She observed: "In my mind back then, I thought once you're wearing a seatbelt, he was driving safe, there was no speeding… you think you're safe. But no, unfortunately that wasn't the case.
"I was more worried about dirtying his dashboard with my shoes. I had new boots that day – the soles were sparkling clean. That's why I had decided it would be OK to put my feet on the dashboard."
"I didn't recognise myself"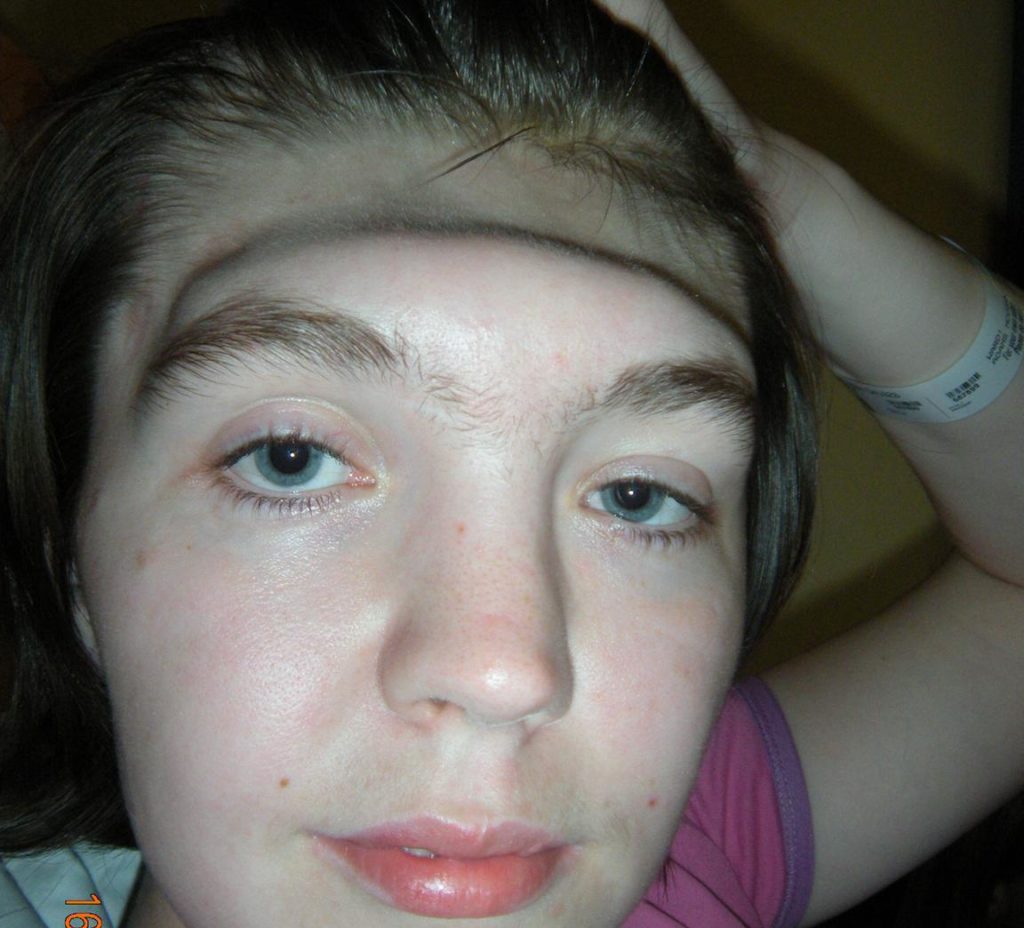 Gráinne after her accident
Gráinne recalled seeing her face in the mirror in the hospital for the first time after the accident, saying she initially thought it was someone behind her.
She said: "I remember feeling this horrible dread in my stomach… everywhere really. I put my hand slowly over in front of the mirror, and I moved my head over to my hand… and I realised it was actually me.
"My knees had pushed in my face and up, so my eyes were further apart… my nose was squashed in… I didn't recognise myself… it was just horrible."
The years after the accident saw intensive medical procedures, but Gráinne said she has also had years of anti-depressants and psychology appointments.
She told Susan: "The medical side of it, I left that up to the surgeons and the doctors… even when my neurosurgeon told me he was going to give me a ceramic forehead. You have to put your trust in them – from day one I did, thankfully, and they've never done me wrong.
"Psychologically and mentally it's been a much bumpier road.
"Every time I look in the mirror all I see is what's different.
"Don't get me wrong: I don't stand in front of a mirror and dwell on it too much. It just is what it is. I've learned to live with it, but I do think about it every time."
"You think it will never happen to you"
13 years after her accident, Gráinne says she now lives a good life – she is working again, and five years ago she had a son.
She said: "I was a barmaid, and I remember being told years ago that I would never go back to work in a bar. Because of my brain injury, it is quite difficult with loud noises and people talking close to my ear.
"[But] I'll be working this weekend… my son will be getting ready for Santa. I have a great family at home supporting me… my son is there… my people in work are amazing."
Meanwhile, her advice to anyone thinking of putting their feet on a car dashboard is that it's simply not worth the risk.
She explained: "You often see on the news, on social media, on the radio about people being in accidents… you think it will never happen to you.
"I was one of those people, I'll admit it. 'It'll never come to my door' kind of thing. But I can tell you nobody is exempt from it.
"Celebrities have put up photos of themselves putting their feet on the dashboard. Obviously they don't do it knowing the dangers of it.. They don't know the danger of it. But they have huge followings… millions and millions of people watching what they're doing.
"It's just so important to be aware. Front seat passenger, back seat passenger… it doesn't matter. Just be aware of what you're doing in the car. Keep your feet down, don't be worrying about your mobile."
Main image: Susan Keogh and Gráinne Kealy
https://www.newstalk.com/news/think-car-crash-will-never-happen-can-tell-nobody-exempt-941600